June 30th, 2022
The Impact of Prescreening
Note: While our screener is often updated, these blog posts might not be, so some of this information may no longer be accurate. The infomation below is for general informational purposes and should not be relied upon for guidance about your specific SNAP situation. Please refer to official USDA materials or your state website for official SNAP information.
Background
For the last few years we've been operating a 50 state SNAP prescreener. Since then, we have prescreened thousands of households and helped over a dozen nonprofit anti-hunger organizations embed the prescreener into their website.
One of the topics that we and our partners are often asked about is the impact of prescreening, and what the effect is on encouraging people to submit an application for SNAP.
There's really one main goal for our prescreener -- to get more people enrolled in SNAP. For background, there are 50M people in the US that are eligible for SNAP, however only about 82% or 41M people are enrolled in SNAP. The percentage enrolled (participation rate) is relatively high compared to other benefit programs, however given how big the SNAP program is, that's still almost 10M people not receiving the benefit that they are entitled to.
Also, while the participation rate for some populations is nearly 100%, the participation rate for seniors is 42%, half the national average.
Findings
We asked 138 clients that were screened eligible for SNAP about how likely they were to apply for SNAP before and after using our prescreener.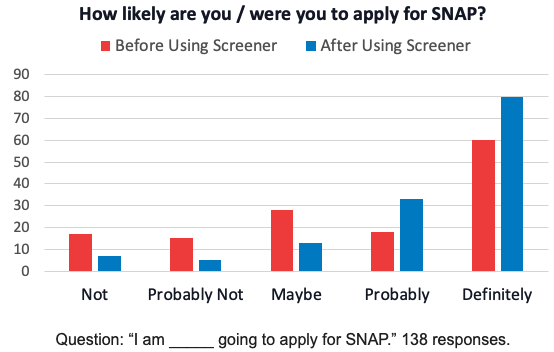 Before prescreening: 3.64 / 5
After prescreening: 4.26 / 5
Increase: +0.62
Converting that 0.62 increase to a percentage, that's about a 12.4% increase in likelihood of applying for SNAP after using the prescreener. Which means, if the prescreener screens 1,000 people as eligible, that's about 124 more applications submitted than may have otherwise.
That's also just using the prescreener -- some of our nonprofit anti-hunger partners also provide one-on-one SNAP application assistance to the clients using the prescreener as intake. In that case, there's an even higher conversion rate of new SNAP applicants.
There are two main reasons that the prescreener is effective in encouraging people to apply.
First, the information about SNAP eligibility online is overly strict. Since the state SNAP eligibility rules are always the same or less strict than the federal rules, due to the overwhelming amount of federal SNAP policy information online, many going through the prescreener may have thought they weren't going to be eligible. For example, many resources print that there's a strict asset test in every state, while only eight states have an asset test in practice.
A previous analysis found that over 38% of eligible clients would have found that they wouldn't have been eligible for SNAP had they relied on the top search results which often share the federal SNAP eligibilty rules.
The other reason that the SNAP calculator has been effective is that it gives exact benefit amounts. Clients are unsure of whether it's going to be worth their time to apply, and might think even if they are approved, they'd only get $20. Seeing an estimated benefit amounts of $100, $200, $300, particularly with the pandemic emergency allotments still in effect in many places, is encouraging that it will be worth the effort to apply.
Work at an anti-hunger nonprofit?
Contact us to start prescreening your clients for SNAP eligibility.